Importance of Website Homepage Design Tips and Ideas
In this digital age, a website's homepage serves as the digital front door to your business, organization, or personal brand. It's the first impression that visitors receive when they land on your site, and it plays a crucial role in retaining their interest and guiding them through your online space. This article will explore the significance of a website's homepage, its structure, design tips, and essential elements that make it effective. Let's delve into the world of homepage design!
Why Is the Homepage of a Website Important
Your homepage is like a virtual handshake, welcoming visitors to explore what you have to offer. It acts as a beacon, directing users to the most relevant content on your site. Here's why it's vital:
First Impressions Matter
Your homepage creates the first impression of your website, and as they say, you never get a second chance to make a first impression.
Navigation Hub
It serves as a central hub that helps visitors find their way around your site, ensuring a user-friendly experience.
Reflects Your Brand
The homepage is where you can showcase your brand's identity, values, and unique selling points.
SEO Benefits
A well-structured homepage can positively impact your site's search engine ranking.
Website Homepage Structure
A Well-Structured homepage is essential for guiding visitors and achieving your site's goals. It should consist of:
Clear and Engaging Heading
An attention-grabbing headline that encapsulates your site's purpose.
Navigation Menu
A user-friendly menu for easy exploration.
Engaging Content Sections
Divided into sections that provide essential information about your site.
Call to Action (CTA)
Encouraging users to take desired actions like subscribing, shopping, or contacting you.
Getting creative with your homepage can set you apart from the crowd. Here are some ideas to consider:
Interactive Elements
Incorporate elements like quizzes, polls, or live chat for an interactive experience.
Minimalistic Design
A clean and simple design can convey a sense of professionalism.
Personal Touch
Share personal anecdotes or stories to connect with your audience.
What Is a Home Page of a Website
The homepage is the main entry point of your website. It introduces your site's purpose, highlights key features, and provides easy access to other sections.
How to Design the Home Page of a Website
The homepage is the main entry point of your website. It introduces your site's purpose, highlights key features, and provides easy access to other sections.
When designing your homepage, consider the following:
Target Audience
Design with your audience in mind; what will resonate with them?
Visual Appeal
Use high-quality images, videos, and graphics to make your homepage visually appealing.
Mobile Responsiveness
Ensure your homepage looks great and functions well on all devices.
When Designing a Website, What to Consider
Designing a website involves multiple considerations, such as user experience, functionality, and aesthetics. Your homepage plays a pivotal role in this process.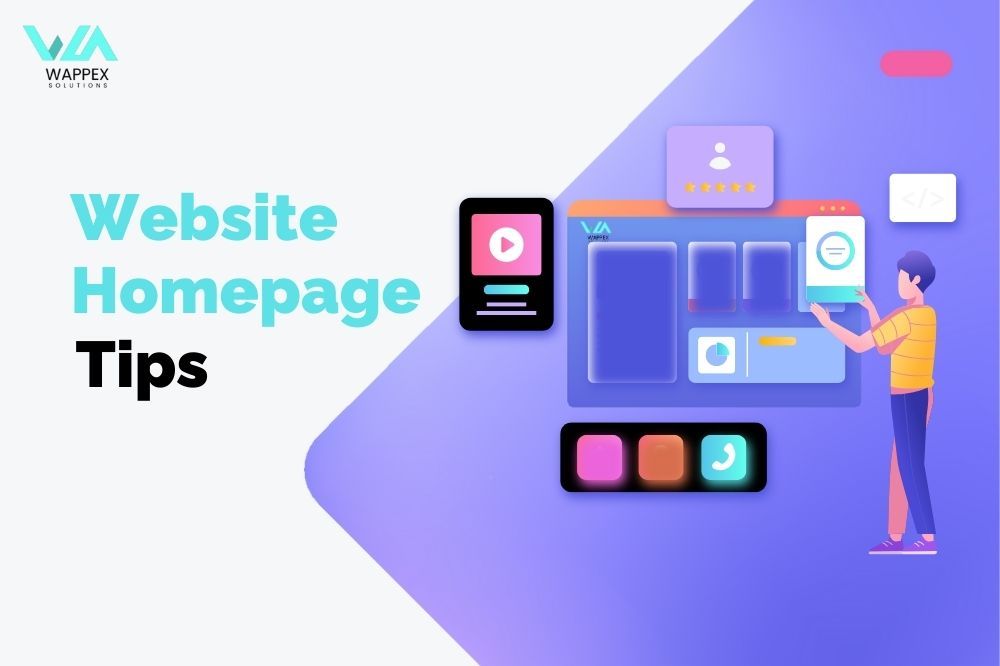 Effective homepage design involves some key tips:
Keep It Simple
A clutter-free homepage is easier to navigate.
Fast Loading Time
Optimize images and scripts to keep loading times fast.
Clear Branding
Ensure your brand's identity is evident in the design and content.
Strong CTA
Encourage visitors to take action with compelling calls to action.
Why Is the Design of a Website Important
The design of a website is crucial because it significantly impacts the user experience and overall success of the site. A well-designed website is visually appealing, easy to navigate, and responsive on various devices. It creates a positive first impression, enhances credibility, and encourages user engagement. A thoughtful design also influences how users interact with content, affecting conversion rates and the achievement of website goals. In essence, website design plays a pivotal role in attracting, retaining, and satisfying visitors, which is vital for online businesses and organizations.
Website Landingage HTML CSS
A website landing page created using HTML and CSS is a single web page designed to capture the attention of visitors and prompt them to take a specific action, such as signing up for a newsletter, making a purchase, or requesting more information. HTML (Hypertext Markup Language) and CSS (Cascading Style Sheets) are essential for building the structure and visual appearance of the landing page. HTML provides the content and structure, while CSS is responsible for styling elements, making the page visually appealing and consistent.
Website Homepage Design with Page Builder
Designing a website homepage with a page builder is a user-friendly and efficient approach to create an attractive and functional front page for a website. Page builders are web development tools that don't require extensive coding knowledge. They typically offer a drag-and-drop interface, pre-designed templates, and various customization options. With a page builder, users can easily arrange elements like text, images, videos, and buttons to craft a visually appealing and responsive homepage.
How to Layout a Website Landing Page Design
Landing pages, similar to homepages, are crucial for specific marketing campaigns. Learn how to create effective landing pages to capture leads or drive sales.
Website Homepage Must-Haves
Certain elements are non-negotiable for a successful homepage:
Contact Information
Navigation Menu
High-Quality Imagery
Value Proposition
How to Make Website Homepage
Select a website-building platform that aligns with your needs, such as WordPress, Wix, or Squarespace. These platforms simplify the design process, even if you lack advanced coding skills.
Design your homepage layout, including the header, navigation menu, content sections, and footer. Make it visually appealing and easy to navigate.
Add relevant content, including text, images, videos, and other media, with compelling headlines and descriptions to engage visitors.
Ensure your homepage is mobile-friendly and optimized for fast loading times. Implement search engine optimization (SEO) techniques to improve your site's visibility in search results.
How to Design Website Homepage
Designing a website homepage is a crucial process. Start by understanding your website's purpose and your target audience. Choose a layout that includes a header, navigation menu, content sections, and a footer. This layout should be visually appealing and easy to navigate.
By paying attention to these aspects, you can create an inviting and effective homepage that leaves a positive first impression and encourages visitors to explore your site further.
How to Create Website Landingage in HTML
Creating a website landing page in HTML involves crafting a focused, single-page design with a compelling headline, persuasive content, and a clear call to action. Use HTML to structure the page, incorporating elements like headings, paragraphs, images, and links. To enhance the visual appeal and user experience, apply CSS for styling and ensure mobile responsiveness. Optionally, add JavaScript for interactivity and form validation to optimize user engagement and achieve your specific marketing or informational goals.
How to Structure a Website Landingage
Structuring a website landing page involves organizing it for maximum impact. Start with a compelling headline to grab attention, followed by persuasive content that highlights the benefits. Add a clear call to action (CTA) and contact information. Create this structure using HTML, ensuring responsive design, and you'll have an effective landing page to engage and convert visitors.
How to Create a Website Homepage
Creating a website homepage involves planning its layout, adding essential elements like a header, navigation menu, and content sections. Use HTML for structuring and CSS for styling to make it visually appealing and mobile-friendly. Incorporate engaging content, images, and optional JavaScript for interactivity to leave a strong first impression and encourage visitors to explore your website further.
How to Edit WordPress Website Homepage
To edit a WordPress website homepage, log in to your WordPress dashboard, go to the "Pages" section, and select the homepage. Use the built-in Gutenberg editor to make changes, including adding or modifying text, images, or other content. You can also change the layout and appearance using themes and page builder plugins for more advanced customization. Don't forget to save your changes to update the homepage.
How to Layout a Website Homepage
Layouting a website homepage involves structuring its elements for an engaging user experience. Start with a clear header and navigation menu for easy navigation. Organize content sections with a logical flow, balancing text, images, and other media. Ensure responsiveness and use a visually pleasing design to create an inviting, user-friendly homepage.
How to Build a Website Homepage
Building a homepage encompasses design, content creation, and optimization for performance and SEO.
What Should Your Homepage Contain
The content on your homepage should communicate your value proposition, establish trust, and guide visitors to explore more.
Website Homepage/Landingpage Guide
Creating an effective website homepage or landing page involves several key elements. These include a clear and compelling headline, concise content, engaging visuals, and a prominent call to action. User-friendly navigation and mobile responsiveness are crucial, and don't forget to optimize for SEO. This combination creates a powerful online introduction that captures and guides your visitors effectively.
Website Homepage Design Tips
Clear Purpose:
Define the primary goal of your homepage – what do you want visitors to do or know? Keep it focused.
Know Your Audience: Understand your target audience's preferences and needs to tailor your content and design accordingly.
Simplicity: Keep the design clean and uncluttered. Use a clear and concise headline, straightforward navigation, and minimal distractions.
Engaging Visuals: Use high-quality images and graphics that relate to your content and capture attention.
Strong Call to Action (CTA): Include a prominent CTA button or link that guides visitors to the next step, whether it's making a purchase, signing up, or exploring further.
Responsive Design: Ensure your homepage looks and functions well on all devices, from desktop to mobile.
Branding Consistency: Use your brand colors, logo, and typography consistently to reinforce your brand identity.
User Experience: Prioritize a seamless user experience with easy navigation and fast loading times.
SEO Optimization: Optimize your homepage for search engines by using relevant keywords and meta tags to improve visibility.
Regular Updates: Keep your homepage fresh with updated content, seasonal promotions, or announcements.
By implementing these design tips, you can create a homepage that effectively engages visitors, conveys your message, and drives desired actions.
Homepage Website Help
Creating an effective homepage for your website can be achieved by defining its purpose, understanding your target audience, and maintaining a clean and user-friendly design. Focus on clear content, engaging visuals, and a strong call-to-action to guide visitors. Ensure mobile responsiveness, brand consistency, and SEO optimization for a well-rounded homepage that captures and retains the attention of your audience.
What Makes a Good Website Homepage
A good homepage is one that effectively engages visitors, guides them to take action, and leaves a positive impression.
What Is the Purpose of a Homepage on a Website
The purpose of a homepage on a website is to serve as the digital front door, providing visitors with a first impression and quick access to key information. It typically introduces the site's content, establishes its brand identity, and guides users to navigate further. A well-designed homepage aims to engage visitors, communicate the website's purpose, and encourage them to explore deeper into the site.
Are Website Builders Worth It
Website builders can be worth it for individuals and small businesses seeking a cost-effective and user-friendly solution to create a website without extensive technical knowledge. They offer pre-designed templates and simplified tools, making website development more accessible. However, for larger or highly customized projects, professional web development may be necessary, as website builders can have limitations in terms of flexibility and scalability. The choice depends on your specific needs and expertise.
Who Designed Websites
You can inquire about the creators of specific websites by checking their 'About Us' or 'Contact' pages, or by reaching out to them directly. Explore the talented minds behind websites like Wappex Solutons and uncover the creative forces shaping these online experiences.
Conclusion
Your website's homepage is a vital component of your online presence. It's the gateway to your digital world and should be designed with care, keeping your audience and business goals in mind. Whether you're using a website builder or coding it from scratch, following the right practices and principles can make your homepage stand out and leave a lasting impact on your visitors.